Electrolux Toys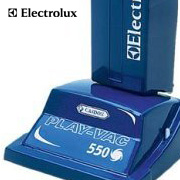 Electrolux is one of the world's leading brands of domestic electrical appliances and also incorporates other well known household names of Zanussi, AEG and Fridgidaire. It's no wonder that toy makers have won the rights to produce a series of Electrolux toys that capture the look of the real thing as well as having some working features.
Master role play toy manufacturer Casdon are experts at creating toys that mimic the original models, and their Electrolux toy vacuum cleaners are a great example of this attention to detail. Whilst they could never be used to vacuum the house, they do have realistic electronic sounds and opening dust bag compartments.
If kids fancy a toy washing machine or an iron to press the clothes after they've been dried, Klein makes some Electrolux toy replicas of different models. The washing machine is particularly impressive with push buttons, rotary dial and opening soap dispenser as well as an operating drum door. Klein's toy Electrolux oven is another masterpiece of miniaturisation with loads of working features and electronic 'cooking sounds'.
RECOMMENDED RETAILERS

Amazon
The world's most famous online retailer sells an unparalleled selection of toys.
Buy Electrolux now >>