Elmer The Elephant Toys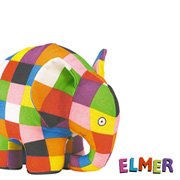 Popular all over the world, Elmer the Patchwork Elephant books have been translated into over 40 languages since the first one was published in 1989. Written by Briton David McKee, Elmer has even been made into a children's TV series. His fantastic patchwork body is comprised of nine colours consisting of orange, pink, blue, black, red, purple, green, yellow and white. This multi-coloured combination is reflected in Elmer's character which is always optimistic and cheerful, as well as loving to play practical jokes.
His popularity is revealed in the number of products available that endorse his character - and range from toys, mugs, lunch boxes, backpacks and even an umbrella. Some manufacturers are planning to produce some new Elmer the Elephant toys - and one of the first is an Elmer jigsaw puzzle from Wentworth, the specialist puzzle makers.
Other products include a 6-pin bowling set, building blocks, small suitcases and some beautiful hand woven floor rugs. Kids just love the Elmer soft toy; he's perfect for a child to cuddle whilst being read one of the books, and helps him or her to relate to the story being told.
DISTRIBUTORS

RECOMMENDED RETAILERS

Amazon
The world's most famous online retailer sells an unparalleled selection of toys.
Buy Elmer toys now >>

Dragon Toys
A teddy bear & soft toy shop selling quality brands.
Read more about Dragon Toys >>