Tesco's Emmi Dolls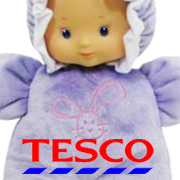 As the UK's largest supermarket chain, Tesco are never afraid to experiment with new ranges, and continue to expand their own branded offerings. With their own Carousel brand of toys launched in the middle of 2011, this range of popular toys was extended to include their own gorgeous Emmi Dolls collection.
Focussing initially on a small range of adorable baby dolls, the selection also includes an Emmi dolls travel system pram, as well as a comfy cot and a highchair for feeding time. Some of the Emmi dolls even incorporate touch system sounds to make playtime even more fun! Press a concealed button in her tummy to make her laugh, or press her feeding bottle to her mouth and listen to sucking noises; then she'll burp and fall asleep!
Dressed in removable pretty outfits, Emmi dolls compete head on with established German brands like Gotz and Zapf. In an effort to cut down on wasteful packaging, Tesco Emmi Dolls are held inside their boxes by cleverly designed cardboard inserts rather than the usual screws or wire ties.
RECOMMENDED RETAILERS

eBay Toys
The 'World's Online Marketplace' offers an unprecedented selection of toys.
Buy Emmi Dolls now >>