Fagus Toys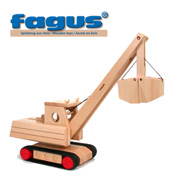 The German based manufacturer Fagus, makes a great selection of wooden toys that are produced without the need for nails, staples or screws. Made with beech wood, the toys are interlocked and glued together - and the natural warmth of the wood is retained with a colourless varnish.
Fagus toys are renowned for their strength and durability as well as their strong educational values. We particularly like their cleverly designed marbles runs that can be assembled anywhere and even be mounted on a wall!
Whilst Fagus have launched a few games in their time (including one called Quapetito) making traditional wooden cars, trucks and diggers is where the company really excels. More than anything, we love Fagus's emphasis on the durability of the materials they use and the quality of their craftsmanship. This is particularly evident in one of our favourite Fagus toys: The Wooden Fire Engine Toy. This steerable wooden fire engine comes with nine 'peg' figures. The ladder is extendable and can be adjusted and turned to help the little firefighters out.
RECOMMENDED RETAILERS

Amazon
The world's most famous online retailer sells an unparalleled selection of toys.
Buy Fagus toys now >>