Falk Tractors & Trailers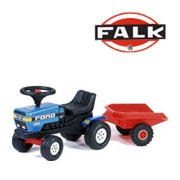 As France's premier manufacturer of pedal tractors and trailers, Falk have established a strong presence in the UK and are well known as a supplier of well designed and built ride-on toys. Ranging from a simple sit-on tractor propelled by foot power, to much larger chain-driven pedal tractors, Falk have established a range that is second to none.
By signing licences with many of the world's leading tractor brands, Falk are able to offer kids that extra bit of realism and authenticity. Ford, Claas, New Holland and Case are all represented in the Falk tractor ranges, and with a great selection of trailers on offer, kids really can pretend they're down on the farm! Some are even fitted with front loading scoops, and the trailers can be simple open versions for carrying leaves about, to tanker trailers that can be filled with water to feed the cows.
Ranging in sizes for kids from one year old up to six or seven, Falk pedal tractors and trailers are a popular choice for parents to buy their kids for some great outdoor and indoor play. By investing in new production methods and materials, Falk toys are long lasting, and many examples are handed down to the next generation for extended play and pleasure.
RECOMMENDED RETAILERS

Amazon
The world's most famous online retailer sells an unparalleled selection of toys.
Buy Falk tractors now >>

Argos
The original catalogue shop now sells a huge range of toys at great prices.
Buy Falk tractors now >>