Fashion Angels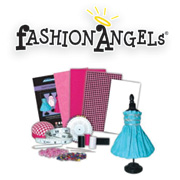 The Fashion Angels brand is much more than just a collection of dolls and their accessories. Intended for girls from age 8 and over, some of the products are designed to inspire the girls to create and make designs for the Fashion Angels. In addition there are various Fashion Design sketch books and studio sets where girls can design their own clothes for the dolls.
With great names such as Debo, Lulu, Izzy and Bebe, the Fashion Angels range is an inspiration for little girls to be fashion conscious and trendy. The dolls are 15 inches tall and are fully poseable from head to toe with a beautiful plush finish, and faces which are cute and embroidered. The striking Fashion Angels hairdos are actually wigs which are interchangeable, as are all the clothes, jewellery and accessories.
The American makers of Fashion Angels have a global network of distributors and retailers, and they are always creating new products such as bling and jewellery items. Fashion Angels are as trendy as Bratz but not quite so brash, and will appeal to girls who want a softer feel and finish to their fashionable play things.
RECOMMENDED RETAILERS

Amazon
The world's most famous online retailer sells an unparalleled selection of toys.
Buy Fashion Angels toys now >>
KidzCraft
Online craft shop providing kids craft ideas for creative and fun craft parties.
Read more about KidzCraft >>