Ferbedo Go-Karts for Kids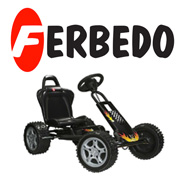 Best known for their terrific ranges of go-karts and pedal powered trucks, Ferbedo's ride-ons are strong and robust for the inevitable pounding they'll get - either when they're racing around the garden, or on off-road excursions in the local park or playground. Featuring chunky rubber tyres, handbrakes and free-wheeling mechanisms, most of the models have adjustable seats for extending the suitable age ranges.
Ferbedo kid's go-karts look like racers too, with brightly painted frames, black seats and racy logos on the front steering column fairings. Their chain driven trucks are also very trendy, and almost all of them are based on real manufacturer's vehicles like Mercedes, Daf and Volvo. We mustn't forget little girls however, many of whom are fiercely competitive and want to keep up with the boys, so the Ferbedo pink go-karts are perfect for them and their friends.
By cleverly adapting their go-kart chassis and adding special body parts, Ferbedo manufactures an impressive series of pedal-operated Formula One cars for several different age groups. Based on the Mercedes silver colour, kids will love the look and performance of these miniature racing machines. Ferbedo go-karts, trucks and racing cars are strong and reliable, and are popular in dozens of countries around the world.
RECOMMENDED RETAILERS

Amazon
The world's most famous online retailer sells an unparalleled selection of toys.
Buy Ferbedo go-karts now >>