Filly Toys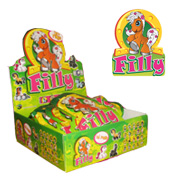 What little girl doesn't love horses, and with Filly Princess they have a wonderful range of collectable ponies and horses in three exciting themes. Slightly smaller than My Little Pony, Filly horses and play themes are set to enchant and thrill little girls throughout the UK. The Filly collection has at least eighty five horses to collect, with some rarer than others! Choose from Valentine, Abdul, Rowena and Jacques plus many more. Some, like Filly Princess are ultra rare – a few even have a real Swarovski Crystal inside their crowns!
Filly Town Stables and Filly Royal Carraiges are just two of the big selection of Filly Princess play sets. Supplementing the Filly Princess assortment is Filly Forest, Filly Beach or the adorable Filly Fairy collection. These will include Filly Ice Fairies that can skate across a magical skating rink, and with various other play sets to collect as well, Filly is set to be swapped, traded or bought in playgrounds all around the country. Various vehicles like a car and caravan, a cottage and a Filly Fairy Castle can all be bought to bring the Filly collection to life.
The Filly Family lives in the fantastic Filly Kingdom where Emperor Karus has an amazing annual party. All of his relations from other palaces are invited to this sparkling event with Filly Princess Crystal being the special guest. Little girls love collecting this exciting range of adorable play horses with different names and decorations.
RECOMMENDED RETAILERS

Amazon
The world's most famous online retailer sells an unparalleled selection of toys.
Buy Filly toys now >>