Flying Pig Paper Animation Kits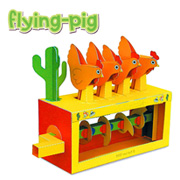 Flying Pig is a company based in Cumbria that produces an eclectic range of paper animation kits, foam models and anatomical puzzles.
The Flying Pig paper models are designed for children of 12+ years and provide a great introduction to basic mechanics. The kits come with easy, step-by-step instructions that explain how to fold and assemble the various pre-cut pieces to create your very own moveable model! As well as the showcase Flying Pig toy, other designs include the Skiing Sheep, Grumpy Goat and Robot Man.
In addition to the pre-printed paper animation kits, Flying Pig also offers downloadable kits that can be printed out on your very own printer. Ranges include the Dancing Diplodocus and Flying Spaghetti Monster! Also available is a selection of foamboard models which consist of pop-out pieces that can be slotted together without the need for glue or tools. Themes include space, insects, dinosaurs and architecture. Particularly stunning are the models of the Sydney Opera House and the Empire State Building.
RECOMMENDED RETAILERS

Amazon
The world's most famous online retailer sells an unparalleled selection of toys.
Buy Flying Pig toys now >>