Fuzzy Felt Toys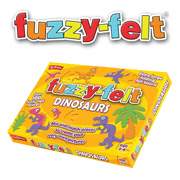 Fuzzy Felt typically brings back some very fond memories from the generations of people that have loved playing with this wonderfuily simple, yet highly creative toy during their childhood. Launched in 1950, Fuzzy Felt today is pretty much identical to how it was all those years ago - and we think that's the sign of a truly great product!

Perhaps the biggest difference between this simple fabric toy today, and how it was many years ago, is that in addition to the many 'generic' themes of farmyard, dinosaurs, pirates, sports etc, there is also now a large range of branded Fuzzy Felt toys that feature many popular TV characters. These include Bob The Builder, Thomas and Friends, Fireman Sam and Postman Pat.
Regardless of the introduction of branded items however, Fuzzy Felt is still based on the same key principle - to allow young children to create their own masterpiece by attaching pre-cut felt shapes onto a backing board. Fuzzy Felt toys help young children to understand colour, shapes and the names of objects. They also help to develop their imaginations and creativity. Apart from anything else, the lovely texture of the product makes it a joy to use - and we would wholeheartely recommend Fuzzy Felt toys as a must-have product for any child.
DISTRIBUTORS

RECOMMENDED RETAILERS

Amazon
The world's most famous online retailer sells an unparalleled selection of toys.
Buy Fuzzy Felt toys now >>