Garden Games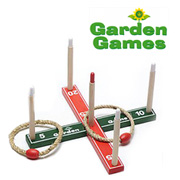 With an increase in summertime garden parties, weddings and BBQs, companies like Garden Games have been quick to see the value that can be added to these happy events. By providing a great range of climbing frames and slides for the kids, as well as big versions of many popular indoor games for the whole family, no one will get bored and want to go home early!
The iconic Connect 4 and Jenga games are undoubtedly the two most popular toys sold by Garden Games, with chess, pick-up sticks, ludo and dominoes, as well as snakes and ladders also getting the extra large treatment. Providing you've got a large flat lawn croquet is also very popular along with skittles, boules, quoits and garden darts. The Garden Games company can supply all of these games to help your party go with a swing.
Wooden climbing frames, slides and swings are always a popular permanent addition to any family garden, and with the choice on offer from Garden Games there's something to suit all budgets. If that's not enough they also have sandpits, wigwams, see-saws and tree swings to keep all the family, friends and other guests amused.
RECOMMENDED RETAILERS

Amazon
The world's most famous online retailer sells an unparalleled selection of toys.
Buy Garden Games now >>

Cheeky Monkeys
An independent and family run online business selling indoor and outdoor toys.
Read more about Cheeky Monkeys >>