Gaspard & Lisa Toys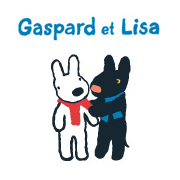 Based on the popular short stories by Anne Gutman and Georg Hallensleben, Gaspard and Lisa is a preschool animated series that follows two best friends on their adventures around Paris.
With a unique animation style that mixes a textured, painterly quality with slick 3D graphics, Gaspard and Lisa has already caught the attention of children in Japan and France and is set to achieve the same in the UK. The voices of the lead characters are provided by children although the first series required a total of twenty supporting voice artists.
Although Gaspard and Lisa toys are not yet for sale in the UK, we've already seen how well the two protagonists translate into soft, cuddly toys. Fans can expect to see lots of different plush versions of their favourite characters as well as smaller figurines and branded merchandise. Young Japanese fans love their Gaspard and Lisa branded items - and below you can see just a small selection of the toys and supporting products that have been released. This includes lunchboxes, mugs, bedding, bags, slippers and night socks.

RECOMMENDED RETAILERS

Amazon
The world's most famous online retailer sells an unparalleled selection of toys.
Buy Gaspard and Lisa toys now >>

eBay Toys
The 'World's Online Marketplace' offers an unprecedented selection of toys.
Buy Gaspard and Lisa toys now >>