Geomag Magnetic Toys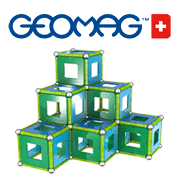 Geomagworld SA is a company based in Switzerland, where creativity and learning have been working side by side since 2008. Geomag products allow children of all ages to develop and train their minds, their imagination and their curiosity through the science of magnetic construction. Every year the company introduces new and innovative product ranges and is famous all over the world. This success is driven not only by the quality of its toys, but also by the goal of its founders: to create the best play experience for everyone.

In its simplest form the Geomag toy system is merely a collection of magnetic rods and balls, but when linked together, they can create the most fantastic objects of great strength. The introduction of the 'Wheels' sets enables kids to push their Geomag car creations around the floor, and adds a whole new dimension to this exciting toy.
In the classroom, Geomag magnetic components can help teachers demonstrate principles of maths and physics as well as the building of models to show the shapes created during chemical or biological experiments. The introduction of plastic panels to infill some of the shapes made by the construction of buildings or random 3D objects, has also helped the Geomag toys to appear even more realistic.
As a construction toy, Geomag is a very young company compared with Meccano or Lego, but its unique simplicity has enabled Geomag toys to take a large slice of the construction toys market in a relatively short space of time. Kids love the strong pull of a magnetic field, and even the sound made when the Geomag pieces click together has endeared it to all its worldwide fans.
RECOMMENDED RETAILERS

Amazon
The world's most famous online retailer sells an unparalleled selection of toys.
Buy Geomag toys now >>