George Luck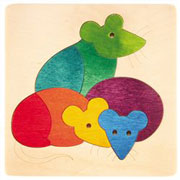 George Luck Puzzles are probably best known for their famous multi-layer wooden puzzles that give hours of fun and play. The family-run business has been making high quality and colourful puzzles since 1975 and uses the latest laser cutting technology to ensure the finest and most accurate finish. George Luck Puzzles design most of their own products which are made in regulated Chinese factories.
Jigsaw puzzles have long been recognised as helping to develop a child's dexterity skills and shape recognition, as well as the most important co-ordination of hands and eyes. George Luck Puzzles are largely based upon recognisable shapes rather than just plain pieces, and the use of animals and vehicles in these shapes helps improve a child's vocabulary and imagination.
Eight different age range recommendations help parents and teachers choose exactly the right jigsaw for their children, and George Luck Puzzles get gradually more difficult and use more pieces as the age increases. Many of the jigsaws have an element of humour in them, whether it's in the animal expressions or in the interesting poses or situations that the pieces are placed.
RECOMMENDED RETAILERS

Amazon
The world's most famous online retailer sells an unparalleled selection of toys.
Buy George Luck puzzles now >>