Geoworld Toys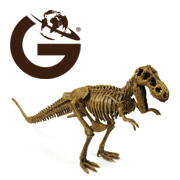 Well known for their children's educational science kits, Geoworld aims to provide the best possible learning experience for kids, whilst having plenty of fun at the same time. Their mineral mining sets for example even contain non precious gemstones that kids discover by realistically chipping away at soft 'ancient rocks'.
Geoworld's Dinosaur Dig sets are classic toys that sell millions worldwide every year. Children experience the excitement of finding prehistoric bones contained within soft powdery clay. These 'bones' can then be assembled to create a realistic and accurate representation of a dinosaur skeleton. Popular examples include the mighty Tyrannosaurus Rex or the giant Brachiosaurus.
Plastic dinosaur models by Geoworld are supplied with a '3D Wow Card', full of information about these mysterious pre-historic creatures. Other kids love the insect sets that contain a guide book and real insects preserved in resin blocks to aid easy identification. Geoworld toys are educational, informative and enjoyable, whilst offering children plenty of opportunities to understand the basics of biology and science.
RECOMMENDED RETAILERS

Amazon
The world's most famous online retailer sells an unparalleled selection of toys.
Buy Geoworld toys now >>