Gesslein Prams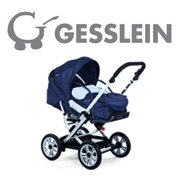 The German company, Gesslein, is best known for their terrific selection of stylish and practical prams and buggies. Their latest creation, the Gesslein F10, is a perfect example of the company's distinctive design and superb attention to detail.
Gesslein's range of prams makes them ideal solutions for both city and country living. Particularly popular products from their range include the F6 stroller, the Vision S tricycle and the Swift Buggy. The Gesslein F6 is one of Gesslein's showcase prams. With excellent maneuverability and changeable wheels. This is the perfect pram for both city shopping and off-road walking. Its comfortable body makes it ideal as a daytime bed - and the anti-tip chassis also means that it can be placed on a patio or in a garden with absolute confidence.

The 'Swift' and 'Vision S' are two of Gesslein's popular buggies. With fresh designs, bold colour-schemes and great durability, these small and lightweight buggies are highly compact when folded and perfect for people that live in the city.
In addition to Gesslein's prams, we would also recommend that you check out the various other toys and baby products produced by this company. We particularly like the oversized rocking horse, colourful pirate sailing boat and their "Baby Bike" that is lovingly handmade from Beech wood.
RECOMMENDED RETAILERS

Amazon
The world's most famous online retailer sells an unparalleled selection of toys.
Buy Gesslein prams now >>