Gotz Dolls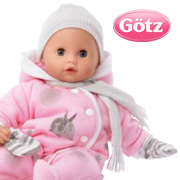 Founded in 1950, Gotz dolls were originally made of papier-mâché and were assembled by members of the Gotz family. Production soon moved to vinyl rotation which is the method still used today. The play dolls are the most popular range and are specifically designed to be handled and played with by little girls of all ages. Made in varying sizes, the styles and appearance of these gorgeous Gotz dolls are simply breathtaking.
The hair, the eyes and the poses all contribute to make these dolls some of the most stylish available and the amazing outfits worn by all the Gotz dolls are truly startling and distinctive. Ranging from traditional to modern, baby to teenage and with a huge range of accessories to match, it's no wonder that Gotz dolls are loved by little girls all over the world.
The collectable series of Gotz Artists dolls are created by a number of designers who strive to produce the most lifelike dolls they can possibly make. The facial expressions and clothes on these Gotz dolls are some of the finest available and discontinued versions can command huge sums of money at specialist auctions.
RECOMMENDED RETAILERS

Amazon
The world's most famous online retailer sells an unparalleled selection of toys.
Buy Gotz dolls now >>