Guidecraft Shops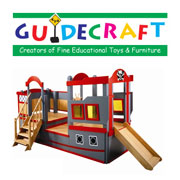 Born in the USA in 1964, Guidecraft has grown from a small company producing a few wooden items from a tiny workshop, into a global firm that supplies its products all over the world. Guidecraft furniture ranges include the amazing pirate ship retro rocker, tables and chairs, bookshelves, activity desks and so much more. Distributed in the UK by Liberty House Toys, the products are painted in a variety of finishes from bright colours and patterns to more subdued pastels, there are pieces of Guidecraft furniture that will suit any decor in any house.
Whatever theme a child or parent chooses, Guidecraft wooden furniture and toys look the part. Girls love the 'moon and stars' or 'princess' collections and boys will probably go for 'pirates' or 'safari' ranges – although there are plenty of others to choose from. There's more to the company than just furniture though, and Guidecraft shops in the UK will also have a selection of other items.
These include building block sets, painting and drawing easels, junior puzzles, clothes stands and even girls vanity sets. By investing heavily in research and development, Guidecraft children's furniture and toys ranges continue to evolve and change with trends and customer feedback.
RECOMMENDED RETAILERS

Amazon
The world's most famous online retailer sells an unparalleled selection of toys.
Buy Guidecraft furniture now >>