Gummy Bear Toys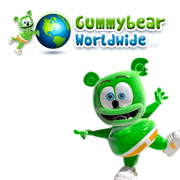 Taking inspiration from Haribo's famous jelly sweets that originated in Germany in the early 1920s, the Gummy Bear character became an almost overnight hit on YouTube. Known as Gummibär in Germany, this little bear's annoyingly catchy song and dance routines took the internet by storm - and it didn't take long before his UK and US fans were rewarded with a change of name to the English-spelt "Gummy Bear".
With Gummy's own TV series in production, it can't be long before one of the major toy manufacturers snaps up the rights to produce a series of Gummy Bear toys, collectables, games and gifts. With CDs, DVDs and video games already available, Gummy Bear toys are sure to focus on the outlandish green bear with his big eyes, and wide [almost toothless] grin! Whether he's dancing, playing the guitar or driving his car, Gummy Bear has fast become established as a leading kid's brand.
Fans should watch out for Gummy bear soft toys, playsets, jigsaws and games as well as an extraordinary selection of sweets. Expect to see Gummy bear in red, yellow, blue and purple too!
RECOMMENDED RETAILERS

Amazon
The world's most famous online retailer sells an unparalleled selection of toys.
Buy Gummy Bear toys now >>