Hama Beads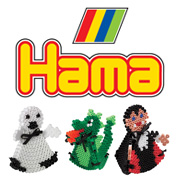 Hama Beads can probably be described as one of the ultimate arts & crafts brands for boys and girls alike. Founded in Denmark in the early 1960s, Hama Beads are the world's number 1 selling bead craft brand. Suitable for ages 3 onwards, children love developing their creativity skills with an array of colourful beads!
Children can make a wide variety of wonderful bead models by putting the coloured beads on plastic pegboards. If they make a mistake it's no problem; Hama designs are not permanent until they are fused together using an iron over special ironing paper.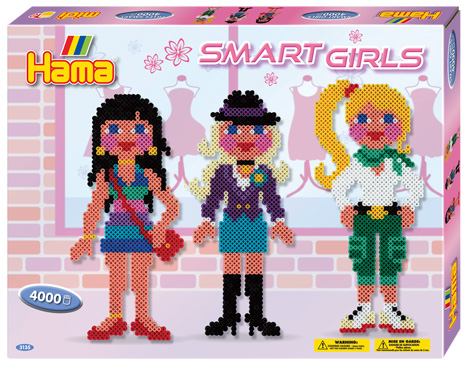 There's a fantastic variety of box sets and accessories on offer from Hama. These include giant Disney themed kits and mobile creating sets, as well as jewellery making kits and large tubs or packs of beads! All Hama sets include plenty of beads to complete the featured design, plus re-useable pegboards, detailed instructions, colourful design sheets plus the special ironing paper. The possibilities are almost endless with a Hama set. They let kid's imaginations run riot with just a few beads and a pegboard.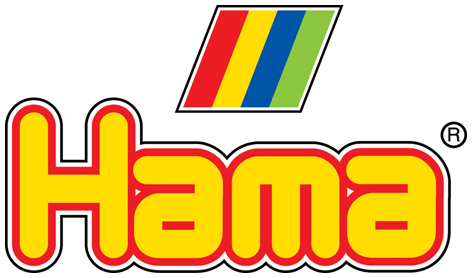 As children get more creative, Hama Beads have a terrific selection of accessories like extra bases and a fantastic choice of beads in solid, pastel, glitter, neon or fluorescent colours. This enables kids to completely express their individuality by creating their own unique work of art.
Distributed in the UK by DKL Marketing, extra pegboards can also be purchased in small packs, or larger ones are available individually. There are many favourite designs that include ballerinas, fashion girls and pony fun, to rally vehicles, popular pets and even Winnie The Pooh. The younger children are not forgotten, with a range of Hama Bead sets using larger pieces for smaller fingers.
HERO PRODUCTS

DISTRIBUTORS

RECOMMENDED RETAILERS

Amazon
The world's most famous online retailer sells an unparalleled selection of toys.
Buy Hama beads now >>
KidzCraft
Online craft shop providing kids craft ideas for creative and fun craft parties.
Read more about KidzCraft >>