Hauck Prams & Pushchairs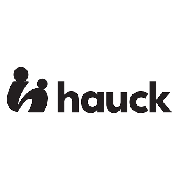 The German-based company Hauck was created in 1927, and in 2001 they opened a UK distribution base in North Wales. Their huge range of nursery products covers not just prams and strollers but also a terrific selection of nursery furniture and accessories. Hauckís choice of wheeled products is extraordinary with something for every occasion – whether it a buggy, shopper, stroller or a jogger thatís required.

Hauck highchairs can be bought with both wooden or metal frames, and their travel cots come in a great variety of shapes, colours and designs. Playpens, activity centres, door gates and changing bags are just a few more items from the amazing Hauck collections. Hauck retailers are situated all over the UK - and if thereís not one near where you live, there are plenty of online sellers who can help.
Naturally all Hauck nursery products are made to the highest standards in modern and clean factories. Their attention to detail helps to make all their products long lasting with the minimum of servicing required.
RECOMMENDED RETAILERS

Amazon
The world's most famous online retailer sells an unparalleled selection of toys.
Buy Hauck prams now >>
Toyzstore
Avening-based Toyztore offers a range of high quality toys and games for babies through to tweens.
Read more about Toyzstore >>