Hedstrom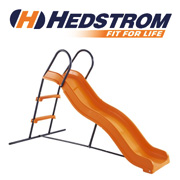 British based Hedstrom are the distributors for a tremendous range of outdoor toys that include trampolines, slides, swings and seesaws that will liven up any outdoor playtime. Hedstrom trampolines come in all the popular sizes with safety enclosures available as an extra add-on. These are great for helping to prevent the eager young bouncers falling over the side onto the ground. Trampolining has been proved by many researchers to be one of the best forms of exercise for kids as well as adults, with so many health benefits too.
Swings are one of the oldest and most popular garden toys, and Hedstrom supply a selection of single swings in different heights with either painted or galvanised finishes. Combine the swing with a seesaw or a slide, and parents can soon have a garden full of fun practical Hedstrom outdoor toys to let their kids get plenty of exercise and fresh air. All Hedstrom outdoor toys are well made and represent excellent value for money.
DISTRIBUTORS

RECOMMENDED RETAILERS

Amazon
The world's most famous online retailer sells an unparalleled selection of toys.
Buy Hedstrom products now >>