Heimess Toys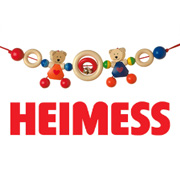 For over 50 years, German company Heimess have been producing beautiful wooden toys that are designed to help young children with coordination and mental development, in addition to being just nice toys to play with. The Heimess philosophy is to make toys that are bright and colourful as well as safe and easy to use, and are distributed throughout the UK by K-Play.
Heimess toys embrace all the things that make wood such a popular natural material for making toys - it feels warm, is easy to clean, does not attract static or dust, and makes a pleasant sound when being used. Heimess toys are largely made from beech and maple wood cut from sustainable forest sources. The baby toys include rattles, chains for prams, buggies & seats plus gyms and play trainers, together with clip on figures in both wood and plush for babies to play with in their cot.

Wooden vehicles, and some delightful soft fabric covered pull along animals are also part of the extensive Heimess toys collection. The delightful cot mobiles are themed with subjects such as butterflies, space ships, aeroplanes or trains. Heimess products are sold by many retailers throughout the UK, and they are always producing new and innovative designs through their development programme.
DISTRIBUTORS

RECOMMENDED RETAILERS

Amazon
The world's most famous online retailer sells an unparalleled selection of toys.
Buy Heimess toys now >>

Hello Baby
Online shop selling a wide range of toys and nursery equipment for babies and toddlers.
Read more about Hello Baby >>