Hey Duggee Toys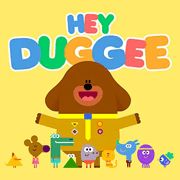 CBeebies hit TV show Hey Duggee features a big adorable dog who runs the Squirrel Club for a group of interesting preschool characters. As soon as master toy maker Golden Bear saw the series they knew they had to be involved in creating a series of toys centred on the series. Character figurines of all the main characters are a given of course. These naturally feature Duggee, as well as Tag the thick skinned rhino and Betty a highly intelligent octopus.

Happy the contended crocodile loves splashing anyone in range, and Roly the hippo gets excited about almost anything! This disparate group of individuals get up to all sorts of adventures, most of them involving a great deal of slapstick comedy. The shows' junior fan club loves anything to do with Hey Duggee, and basic jigsaws, games and playsets are all in addition to Golden Bear's ranges of plush toys. Penguin Books are also announced as the series publishing partner for books, magazines and comics.
The hero product in Golden Bear's range is the amazing Woof Woof Duggee toy. He's made of plush fabric with push buttons on his chest that play realistic phrases from the show when pressed. Kids love to cuddle this lovable character that stars in one of their favourite shows. Kids will also want to check out the Squirrel Club playset where thay can role play with all the show's characters.
HERO PRODUCTS
DISTRIBUTORS

RECOMMENDED CATEGORIES

Children's games stimulate the mind and encourage competetiveness.
Visit the Games category >>
Jigsaw puzzles are a great way to stimulate your child's dexterity skills.
Visit the Jigsaw Puzzles category >>

Find traditional stuffed animals and plush toys fitted with electronics here.
Visit the Soft category >>