Hohner Musical Instruments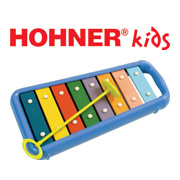 Started in Germany in the mid 1800s, Hohner musical instruments are known and sold all over the world, and include harmonicas, guitars, recorders and drums as well as accordions and ukuleles. Popular because of their excellent quality of workmanship as well as stunning sound, Hohner Kids toys and musical instruments are manufactured to be some of the best children's instruments available.
Hohner's instruments are clearly divided into age groups from birth, toddler, preschool and over 6. The ranges start with very basic bells, shakers and mini orchestras and go up to guitars, harmonicas and beginners keyboards. All children love to make a lot of noise, and with Hohner Kid's musical instruments for kids, they can have a real blast!
Recorders and xylophones are popular as well as bongos, drums, maracas and castanets, and Hohner Kids toy accordions are excellent replicas of the real thing. If children want to make up their own junior group or band, cymbals, triangles, wrist bells and rainmakers all add to the overall effect.
RECOMMENDED RETAILERS

Amazon
The world's most famous online retailer sells an unparalleled selection of toys.
Buy Hohner Kids toys now >>