Hotpoint Toys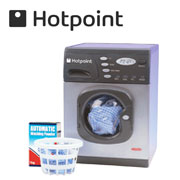 With kids apparently demanding more and more realistic toys to play with, the trend towards manufacturers creating toys linked to major domestic brands is particularly strong in the role play sector. Hotpoint is one of the brands that has received the toy treatment from Casdon, the makers of Dyson and Henry toy vacuum cleaners.
The Hotpoint toy electronic cooker is a masterpiece of play value and features an illuminated grill, ceramic hobs that glow when you put them on as well as realistic cooking and grilling sounds. If that wasn't enough, Casdon also include some oven trays, pans and pretend play food. They also make a Hotpoint toy washing machine with a two speed washing drum, realistic sounds and even an opening drawer for the pretend powder.
Hotpoint toys are not only authentic to look at, but also offer excellent value for money, and kids can almost certainly expect to see a lot more Hotpoint toys released over time.
DISTRIBUTORS

RECOMMENDED RETAILERS

Amazon
The world's most famous online retailer sells an unparalleled selection of toys.
Buy Hotpoint toys now >>