Howa Toys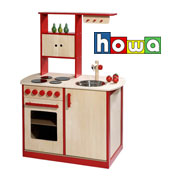 Known as 'toys with a heart', Howa wooden toys were created in Germany in 1995 and include many categories of wonderful kid's furniture and play things. Top of the popularity list is probably the series of wooden Howa children's kitchens that offer such tremendous levels of play value. Often including a pretend cooker, sink and hob together with some excellent accessories like pots, pans and utensils, they can be bought in a variety of colours to blend into any home decor.
Little girls will also love the Howa dolls houses, dressing tables and dolls furniture, all of which is well made and designed to withstand heavy use, often by several children at a time! They also make tables and chairs, toy boxes and bench seats, and the Howa dolls furniture includes cots, bunk beds, dolls prams and even dolls furniture wardrobes to keep the favourite outfits neat and tidy.
The boys aren't forgotten with a great Howa workbench with a variety of pretend tools. A blackboard has lots of extra design features like a pretend clock and a traditional abacus built into the frame, whilst a series of pretend toy shops, market stalls and imitation food and sweets will keep children entertained for hours on end.
RECOMMENDED RETAILERS

Amazon
The world's most famous online retailer sells an unparalleled selection of toys.
Buy Howa toys now >>