Humbrol Shops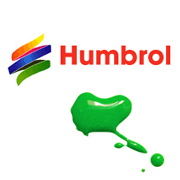 Well known as the UK's premier supplier of model kit paint and accessories, Humbrol can trace its roots back to 1919 as the Humbrol Oil Company. They formulated their first enamel paint for cycles in 1935, and soon branched out into the model business. Best known for their extraordinary selection of colours, Humbrol paints allow model makers to reproduce almost any shade or hue they require.

After a twenty year period when the company experienced several different owners, Hornby acquired the company in 1996 and matched it perfectly with their existing Airfix model kit brand. In addition to the standard enamel colours, Humbrol have also developed a special range of railway model colours with evocative names like Pullman Cream and Buffer Beam Red.
Paints are just a part of the Humbrol portfolio however, and an impressive selection of paint accessories includes brushes, glues, tools and spray equipment. This is one of the most complete model ranges in the world with distributors in the USA, Europe, Australia, Africa and Asia.
RECOMMENDED RETAILERS

Amazon
The world's most famous online retailer sells an unparalleled selection of toys.
Buy Humbrol paint now >>