Ice Age Toys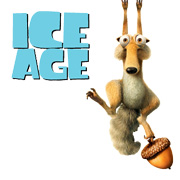 Released in 2002 by 20th Century Fox, the original Ice Age film mainly centered around the key characters of Sid, Manny, Diego and Scrat. It was a massive hit among children and adults alike - and inspired a great selection of Ice Age toys which were mainly based on the key characters.
The unlikely heroes returned in 2006 for 'Ice Age - The Meltdown' - where they had to rescue themselves from an impending melting glacier. In addition to the charming soft Ice Age toys of the key progatonists, toys included a Woolly Mammoth and the huge Cuddlekins Smilodon that measured over 100 cm from head to tail!

July 2009 saw the release of the third in the series, 'Ice Age 3 - Dawn of the Dinosaurs', in both a standard and 3D version. The film inspired a refreshed selection of Ice Age Dawn of the Dinosaurs toys - with "Scrat Wresting Acorn" being among our favourites. There were also some terrific plush toys of all the main characters - with some particularly good ones of Crash & Eddie and Diego.
With the Ice Age series fast achieving cult status, the fourth film, Ice Age Continental Drift, was released in UK cinemas in July 2012. The ever increasing popularity of Scrat and his friends meant that new ranges of toys and gifts were released around the same time. The Promotions Company are on board for playsets and figurines, whilst PMS are the partner to make Ice Age Continental Drift soft toys. Fans should also watch out for playing cards and kids clothing as well as a collection of Ice Age inspired gifts.
2016 is scheduled for the fifth Ice Age film to be released, although Twentieth Century Fox is tight lipped about the plot or even the name.
RECOMMENDED RETAILERS

Amazon
The world's most famous online retailer sells an unparalleled selection of toys.
Buy Ice Age toys now >>