I知 Toy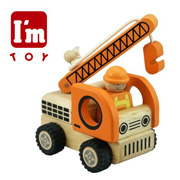 Since 1987, I'm Toy have been making a beautiful range of wooden and fabric toys that kids just can't put down. Using bright colours and sturdy materials, the toys are excellent for developing eye-hand co-ordination and fine motor skills.
I'm Toy puts a lot of emphasis on producing their toys from sustainable and earth-friendly materials. Like other popular wooden toy manufacturers such as Voila, Plan Toys and Pintoy, rubberwood is used extensively due to its sustainability. In addition, all wooden I'm Toys are finished with preservative-free, non-toxic paint to comply with strict European and American Standards.
The I'm Toy products range from small and very cute wooden toys such as the "Pull Back and Go Speedy Snails" and the "Dinosaur Cavemen Family" to much larger-scale and more elaborate work benches and activity centres. They also make everything inbetween - including wooden trikes, a Noah's Ark and a particularly charming 'Witty Worm Stacker'. With such fine craftsmanship, innovative design and strong emphasis on learning values, I'm Toys is one of the great wooden toy manufacturers.
RECOMMENDED RETAILERS

Amazon
The world's most famous online retailer sells an unparalleled selection of toys.
Buy I知 Toy products now >>