Imajo Rag Dolls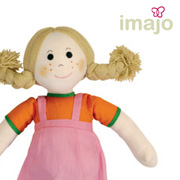 The idea behind Imajo is traditional, ethically sourced and gorgeous rag dolls and soft toys. Each doll is very special and intended to be handed down the generations. You won't find any plastic or throwaway toys in the Imajo range.
That is why everyone falls in love with the new Bonikka collection, dolls inspired from an old porcelain doll given to a daughter on leaving home, eventually being passed onto daughters and grandchildren. This story makes Bonikka a perfect match with Imajo's desire to bring above average rag dolls to the market.
The original Imajo range of rag dolls called Anisa have been popular for years and become great favourites and new best friends. The simplicity of the design is plays a large part in their appeal.
Imajo are known for rag dolls, but they are not the only attraction within their range. The Bebi collection brings some old fashioned styled soft toys to the mix and they are definitely hard to resist.
RECOMMENDED RETAILERS

Amazon
The world's most famous online retailer sells an unparalleled selection of toys.
Buy Imajo dolls now >>

I Love Toys
Online quality toys made from eco-friendly products at affordable prices.
Read more about I Love Toys >>