In The Night Garden Toys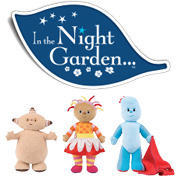 In the Night Garden is yet another success story for the BBC's CBeebies channel. It is a series that explores a child's imagination in the magical time between being asleep and waking up. All In the Night Garden toys are based around the major characters of Upsy Daisy, Igglepiggle and the Tombliboos who themselves are all toys as well.
Created by Anne Wood, who also invented the Teletubbies, she has successfully attempted to produce a peaceful world to combat the constant media showing of anger, violence or outrage to which children are constantly subjected. Children will laugh or smile as they watch the programme, and love to cuddle or play with their very own In the Night Garden toy versions.

Apart from the main characters, the licence for In the Night Garden has been granted to many companies who produce a huge variety of toys and related products. There are jigsaws, clocks, playmats and stacking blocks as well as scooters, tents, sleeping bags, trikes and backpacks. In addition, parents can also buy the kids some books, CDs and DVDs. The characters also have some bizarre forms of transport which are faithfully reproduced as toy versions also.
HERO PRODUCTS
DISTRIBUTORS

RECOMMENDED RETAILERS

Amazon
The world's most famous online retailer sells an unparalleled selection of toys.
Buy In The Night Garden toys now >>