JD Bug Scooters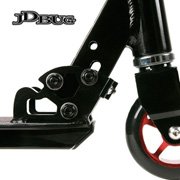 First designed in Switzerland, micro scooters have taken the world by storm, and manufacturer J & R Sports are the makers of the scooter brand known as JD Bug. The basic JD Bug scooter is constructed from aircraft grade aluminium for supreme lightness and strength, and features a pair of PU wheels for an extremely comfortable ride.
Designed for kids of 14 years and over, it not only features a clever folding mechanism but an integrated carrying strap too. The JD Pro version has extra features to make it stand out on the streets! JD Bug also makes a budget version of the JD Pro model which is suitable for younger children of 5 years and over. Larger wheels and a choice of hot colours make this JD Bug one of the most popular micro scooters on the market.
For really young children, JD Bug makes a junior version scooter with two rear mounted wheels that provide extra stability and balance. All JD Bug scooters are well made with a choice of stunning colours in most versions. Carrying bags and optional extras are great for customisation that helps one kidís scooter stand out in a crowd!
RECOMMENDED RETAILERS

Amazon
The world's most famous online retailer sells an unparalleled selection of toys.
Buy JD Bug scooters now >>