The Jungle Book Toys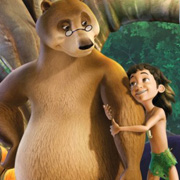 Ever since The Jungle Book film was released in 1967, children all over the world have been fascinated by this wonderful story that tells the adventures of Mowgli, Shere Khan, Baloo and many other memorable characters. Also made into a successful cartoon series shown on CBeebies, The Jungle Book toys feature all the favourite animals and characters that make up this extraordinary story.
Based on the book of the same name written by Rudyard Kipling, the tale is as relevant in the 21st century as it was when penned in the late 1800s. Itís therefore no wonder that many toy companies have signed licences to make a variety of Jungle Book toys. Soft toys and plastic toy figures of all the main animals include Bagheera the panther, Akela the wolf, Hathi the elephant and of course Kaa the slippery python.
Other Jungle Book toys include jigsaw puzzles of favourite scenes from the film as well as DVDs of the original film. Mookie Toys make a range of The Jungle Book toys that include play balls, childrenís trikes, balance bikes, scooters and sit n ride vehicles as well as an exciting range of outdoor climbing frames and slides.
RECOMMENDED RETAILERS

Amazon
The world's most famous online retailer sells an unparalleled selection of toys.
Buy The Jungle Book toys now >>