Kandy Toys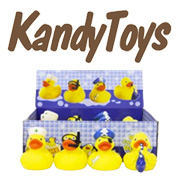 Exeter-based Kandy Toys started trading in 1978 and has grown into one of the UK's largest wholesale suppliers of a wide range of toys and gifts. Summer toys are one of their biggest categories, and with a large West Country base of retail customers thatís hardly a surprise. Retailers should check out their selection of paddling pools, buckets, spades, surf body boards and sun protection lotions as well as inflatable boats, kayaks and beach balls.
With hundreds of items in their pocket money category, Kandy Toys caters for all budgets and age groups. Christmas toy ranges include board games, puzzles, dolls, magic sets, dart boards and die-cast toys in several different scales. When the summer is over and winter beckons, the company offers their customers a great choice of sledges, toboggans and snow shovels as well as snow riders and plastic snowboards.
Confectionary is another big category for the company. Bags of sweets, candyfloss, popcorn, fudge and toffee as well as sticks of rock and biscuits are constant best sellers. Many deliveries to retailers are carried out by Kandyís own fleet of vehicles which make regular trips during busy seasons. Credit terms are available together with reasonable minimum order quantities.
RECOMMENDED CATEGORIES
Dolls delight children with their ability to inspire a world of possibilities.
Visit the Dolls category >>

Look for knights, princesses, farmyard animals or toy soldiers here.
Visit the Figures category >>

Children's games stimulate the mind and encourage competetiveness.
Visit the Games category >>
Jigsaw puzzles are a great way to stimulate your child's dexterity skills.
Visit the Jigsaw Puzzles category >>
Outdoor toys and games are the perfect way to keep your kids fit and active.
Visit the Outdoor category >>

Toy shops have large sections devoted to low-value pocket money toys.
Visit the Pocket Money category >>

These companies supply toys or games in bulk for onward shop sales.
Visit the Wholesalers category >>