Keptin-Jr Toys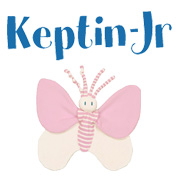 Keptin-Jr are the makers of some wonderful toys and baby products that are all made from natural and organic materials. Pure wool and cotton are at the heart of every one of the company's toys, and the variations from natural colours have been created using a non-metallic dye. Keptin-Jr have based the design of their toys on children's developments to make the best use of their creativity and imagination.
There are several different ranges to choose from including Bondifly, Blankiez, Cozy&Zmooz and the Toddels. All of the designs are completely unique and are attractive to the children as well as the parents and friends buying them. The Keptin-Jr Tiny Dolls range of ragdolls are available in different coloured outfits whilst the Bondifly comforter helps premature born babies to develop and to grow up.
Blankiez were developed after noticing that infants were often more interested in the labels on the toys, than the actual product itself. The 100% terry towelling blankets have a series of coloured labels sewn into all four sides to keep baby amused for hours on end!
Cozy&Zmooz are another of Keptin-Jr's unique ranges that are soft toys with no facial expressions. Filled with sheep's wool means that they quickly match the toddler's temperature to make them even cuddlier.
RECOMMENDED RETAILERS

Amazon
The world's most famous online retailer sells an unparalleled selection of toys.
Buy Keptin-Jr toys now >>