Kidz Labs Toys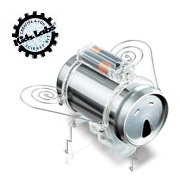 Best known for their "Green Science" range of educational toys, Kidz Labs produce a great selection of educational products that make science and technology a joy to learn. With everything from a Mini Weather Station to their Soda Can Robug, Kidz Labs toys are brilliantly conceived to provide the perfect mix of education and fun.
Although creating a water purification system may not be on the top of every kids wishlist for what to do on a Sunday morning, Kidz Labs somehow manage to make even the most mundane scientific concepts fun and interesting. This is partly down to the company's mastery of terrific toy packaging - but also down to their quality of execution and attention to detail with things like the accompanying instructions which are all too often overlooked.
We particularly like the Animation Praxinoscope and Pinhole Camera which bring some incredible optical principles to life. Where Kidz Labs toys really excel is in their ability to strike a chord between the sense of achievment that comes from creating the contraptions in the first place, and the creative and scientific potential of them once they exist.
Ultimately, the real beauty of Kidz Labs toys is that not only that they provide great fun during the construction phase, but that the resulting product can then lead to hours or days of enjoyment once their true potential becomes apparent. Who knows... maybe Kidz Labs toys could even lead to many years of discovery if the toys help inspire the next Einstein!
DISTRIBUTORS

RECOMMENDED RETAILERS

Amazon
The world's most famous online retailer sells an unparalleled selection of toys.
Buy Kidz Labs toys now >>