Kidz 'n' Cats Dolls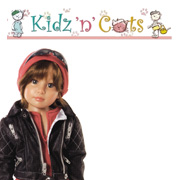 The 'With Heart and Soul' company of Germany are probably best known for their fantastic selections of collectable dolls. Their Kidz 'n' Cats dolls collection however, is designed to be played with! Moulded in the most realistic vinyl, they all have up to nine different points of articulation including knees, shoulders, hips and elbows - this gives these Kidz 'n' Cats dolls the ability to be posed an almost any way imaginable, such as kneeling, climbing, sitting or just standing.
As existing customers would expect, the quality of Kidz 'n' Cats dolls is incredibly high. All face and body details have been hand painted, and only the best acrylic glass eyes are used for the utmost realism. As far as possible, natural materials are used in the production of the Kidz 'n' Cats gorgeous clothes, with extra outfits available to purchase separately.
Designed to be robust enough for little girls aged 6 and upwards to play with, these Kidz 'n' Cats dolls are made in fairly small quantities, and some are sure to be snapped up by collectors who will view them as beautiful additions to their With Heart and Soul collections.
RECOMMENDED RETAILERS

Amazon
The world's most famous online retailer sells an unparalleled selection of toys.
Buy Kidz 'n' Cats dolls now >>