Klutz Toys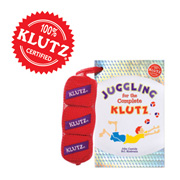 Starting life in 1977 as a company just selling three 'no bounce' bean bags and a juggling book, Klutz have come a long way since then. With a mission statement that says 'create wonderful things, be good and have fun', Klutz toys are now one of the world's leading creator of amazing books, arts & crafts and puzzles. The Klutz juggling book with its quirky design of the bean bags in a net through the corner, was soon followed by some equally innovative and appealing products.
There are so many designs that it's impossible to list them all, but Klutz make books on magic, drawing, stencil art, clay, science, paper flowers, solar car and so much more. The Klutz games and puzzles offerings take a simple product like a yo-yo, package it with a terrific book on how to use it, do tricks with it, and some history.
The Klutz science toys series shows kids how to build a pirate ship or castle, explains the principles of batteries and circuits or even how to build the funkiest paper aeroplanes. Travel books and kits are a great way for kids to pass the time on boring journeys, and Klutz has a tremendous selection to choose from.
RECOMMENDED RETAILERS

Amazon
The world's most famous online retailer sells an unparalleled selection of toys.
Buy Klutz toys now >>