Kosen Soft Toys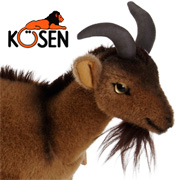 The toy company Kosen makes some of the finest soft toys you will find anywhere. Particularly famous for producing exceptionally lifelike toy animals, Kosen toys are built to last for generations. Handmade in Germany, Kosen uses only the very highest quality fabrics and pride themselves on being able to produce soft toys that have an exquisite attention to detail.
Kosen toys are still produced in Bad Kösen - a small German spa town that has been the home of the company for almost 100 years. The company's designers are required to observe animals in the wild and use this field research to produce products that are as close to the real animal as possible. By using the finest furs and super-realistic eyes, Kosen manages to create soft toys that don't only look like the animal, but share the same mannerisms and facial expressions too.
Loved by children and adults alike, Kosen are highly collectable but are also intended to be played with. For this reason, the products can be machine washed at temperatures up to 30°C. They also conform to the European EN 71 safety standards and have won many coveted awards over the years.
RECOMMENDED RETAILERS

Amazon
The world's most famous online retailer sells an unparalleled selection of toys.
Buy Kosen soft toys now >>