Kriya Toys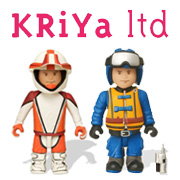 Probably best known for their Mighty World brand which features some charming play sets, toy figures and construction kits, Kriya Ltd is also very active in the role play category. They produce everything from tea sets to electronic cash registers, and also distribute some very nicely detailed 1:18 scale model vehicles. Particularly popular are the toy tractors and transit vans.
Rather than producing toy replicas of household products like Casdon tend to, Kriya's role play toys are very much toy versions of the real thing. They have bright colours, big chunky buttons and some of them require batteries to generate various sound effects.
Many Kriya toys are also notable for being made from recycled plastics, something which the toy industry has been rather slow to embrace. As well as the actual products being made with 95% recycled plastics, Kriya also work hard to ensure that the product packaging is also predominantly made from recycled materials.
RECOMMENDED RETAILERS

Amazon
The world's most famous online retailer sells an unparalleled selection of toys.
Buy Kriya toys now >>