Lanard Toys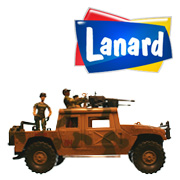 Although they are not well known as a mainstream toy brand, Lanard Toys are a huge Hong Kong based toy company that supplies their massive selection of toys all over the world. Good design and fantastic value for money are the keys to their success. Their flexible manufacturing techniques enable them to design and produce toys for many other better known suppliers under their own brand or licence name.
Lanard outdoor toys made under the Extreme Fun brand are an important part of many shopís offerings. Hula hoops, foam rocket launchers, jump ropes and boomerangs are just a few of the extraordinary selection offered by this company. It might be hard to find a child who hasnít played with a Lanard Total X Stream water toy. Water filled bombs and pump action water pistol guns form the core items in this selection.
CountryKinz barns, horses, riders and accessories are perfect little girlís toys. Pony Tails ponies have manes and tails for girls to comb, and the FairyKins world offers fairy toys that are filled with magic and mischief! Boys enjoy play acting with The Corps range of jointed action figures and weapons. These exciting characters even have their own jet fighters and combat helicopters for extra realism and play value. Look out for Lanard toys in almost all toy shops and online sellers.
RECOMMENDED RETAILERS

Amazon
The world's most famous online retailer sells an unparalleled selection of toys.
Buy Lanard Toys now >>