LaQ Construction Toys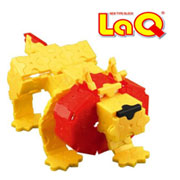 LaQ is a construction toy with a difference – it's a fantastic clip together system using a variety of different shapes and colours including flat and angled sections. Kids have to carefully work out which pieces fit with each other before starting the assembly of their chosen model. LaQ toys are educational and fun!
Supplied in a huge variety of different boxed sets and price points, there's a large number of themes to choose from. Some are general construction sets that make a variety of buildings and vehicles, whereas others contain the pieces necessary to make a specific model. Some of the smaller LaQ toy sets will make up into animals like a panda, lion or even a triceratops! LaQ toy expert sets can cost hundreds of pounds and can contain more than 5000 pieces. A lot of the sets are supplied in handy plastic storage boxes that keep everything safely stored when play is over for the day.
Some LaQ toys come in sets known as 'free style'. These contain a massive selection of pieces that kids can experiment making different shapes and sculptures. A truly innovative kids building system, LaQ toys will stretch a child's imagination, as well helping to improve hand to eye co-ordination whilst having a lot of enjoyment!
RECOMMENDED RETAILERS

Amazon
The world's most famous online retailer sells an unparalleled selection of toys.
Buy LaQ toys now >>