Lazy Town Toys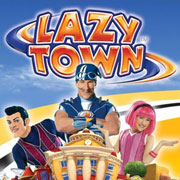 Created in Iceland, the children's TV series Lazy Town has become a highly popular show loosely based around good diet and keeping fit, and has of course created a large number of Lazy Town toys. The two main characters of Stephanie and Sportacus are always battling Robbie Rotten who is constantly trying to get the kids to eat junk food and be lazy! The hundreds of Lazy Town toys which include toy figures of the main characters and various play sets, are joined by books, DVDs and even a monthly magazine in the UK.
The TV show cleverly combines live action with some CGI animation to go with the puppetry of the other characters that make occasional appearances. The Lazy Town toys licence has been used to brand many other kids items such as bicycles, scooters, stilts, hoppers, pools, and playhouses. Some of the most popular Lazy Town toys are the dressing up outfits that children can use to role play their favourite characters, as well as the games that recreate certain features of the shows.
RECOMMENDED RETAILERS

Amazon
The world's most famous online retailer sells an unparalleled selection of toys.
Buy Lazy Town toys now >>