Leebruss Prams and Pushchairs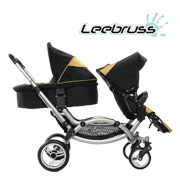 Bristol-based Leebruss provided European-style prams, buggies and other nursery goods that were designed to fit perfectly into a modern lifestyle. The design of Leebruss prams was contemporary and funky - and the company constrantly introduced fresh colours, designs and patterns to the market.
Many of the company's best products can still be found on auction websites - and there is a healthy second-hand market for Leebruss's prams in particular. You should have no problem finding products that reflect your needs and lifestyle choices - and this will ensure that your choice of pram can coordinate with all the other products that you select for your child.
As well as checking out the various travel solutions offered by Leebruss, don't forget to also find out about some of their other baby & toddler products that included rocking horses and 'horses on sticks'!
RECOMMENDED RETAILERS

eBay Toys
The 'World's Online Marketplace' offers an unprecedented selection of toys.
Buy Leebruss Prams now >>