Lundby Dolls Houses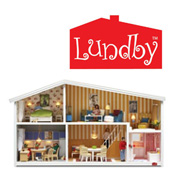 Lundby dolls houses and furniture have been produced by this Swedish manufacturer since the late 1940s. The designs and styles of Lundby furniture have altered considerably over the years as Lundby has striven to keep up with changing fashions and trends in the real world. Lundby were the first dolls house company to provide a low voltage (4v) system in their houses as a safer version of the 12v system used by others.
Sold worldwide, the Lundby dolls house brand has become synonymous with high quality style, and many of their products have been handed down through generations of families. The 1/18th scale of houses and furniture means the pieces are easy for smaller hands to grasp and play with. The Gothenburg Lundby dolls house is probably the best known of all their styles, and the basic shape is still in production with various amendments to room configurations and sizes.
The open plan Lundby Stockholm villa dolls house is a modern version of the traditional, and is supplied virtually assembled. Complete with a swimming pool that cleverly slides into the base for storage, kids will have hours of fun designing their room plans and switching the lights on when darkness falls. Lundby dolls houses and furniture are excellent value for money, with an ever changing selection of accessories for little girls to personalise their very own home.
RECOMMENDED RETAILERS

Amazon
The world's most famous online retailer sells an unparalleled selection of toys.
Buy Lundby dolls houses now >>