Maclaren Prams and Pushchairs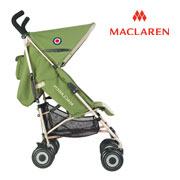 The inventor Owen Maclaren had designed the Spitfire fighter undercarriage before the Second World War - and it was this knowledge of folding structures that inspired him to produce the world's first folding pushchair, commonly known as the Maclaren baby buggy. This originally went on sale in 1967, and the Maclaren company have been at the forefront of innovative and groundbreaking design ever since.
Maclaren prams, pushchairs and buggies are now sold in over 50 countries worldwide, and like the original B-01 model, are still desirable and trendy methods of child transport. Modern methods of construction and interesting fabrics have revolutionised the whole baby carriage industry - and although Maclaren have adapted, they have stayed true to their inventors ideals of easy folding and comfortable, well-priced pushchairs.
The Maclaren prams, buggies and pushchairs have been joined by baby carriers and numerous accessories to help protect and look after your baby – footmuffs, mosquito nets, parasols, blankets and even whole pushchair carrying bags which are all part of the modern requirements. In addition, Maclaren now produce a selection of smaller versions of almost all of their products for little girls to play with and care for their baby dolls.
RECOMMENDED RETAILERS

Amazon
The world's most famous online retailer sells an unparalleled selection of toys.
Buy Maclaren prams now >>