Maisto Toys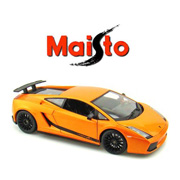 Acknowledged as one of the world's leading manufacturers of die-cast vehicles in nearly ten different scales, Maisto's huge ranges cover all popular cars, motorcycles, trucks and aircraft. One of their most popular selections are the 1/18th scale special and premiere editions that usually feature exotic and desirable cars including Ferrari, Aston Martin, McLaren, Lamborghini, Mercedes, Audi and Nissan.
Some Maisto toys and vehicles can also be purchased in kit form, and with a high proportion of metal parts they have an impressive weight, look and feel. Their licence to make all Harley Davidson motorcycle models means there is a huge range in several different scales, and fans should be able to buy any style they want. More selections include Allstars, ProRodz, GP Racing, and Maisto Tech, an awesome series of funky, aggressive and functional radio controlled vehicles.
A deal with Marvel comics saw Maisto produce a series of vehicles based on many of their superheroes including Iron Man, Captain America and The Avengers. R/C vehicles are another popular range for Maisto models, and with aggressive off road vehicles like Rock Crawler, kids have never had so much fun! With massive investment in product development, Maisto toys will nearly always be the first with models of the latest real life vehicles.
DISTRIBUTORS

RECOMMENDED RETAILERS

Amazon
The world's most famous online retailer sells an unparalleled selection of toys.
Buy Maisto models now >>