Makedo Toys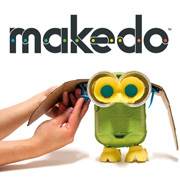 Probably best known in the UK for their Roloblox wheel kit that turns an ordinary box into a vehicle, Makedo (make do) have created a huge range of products based on using raw materials that are easily obtainable at home. If correctly folded and bent, cardboard can be an incredibly strong and re-usable material as witnessed by Makedo sets that can create a London bus or even a space capsule.
By encouraging kids to use their imagination, Makedo supply the basic parts needed to construct items like a robot, a car or a make believe aeroplane. Larger sets suitable for use in schools or playgroups include a generous supply of clips, lock hinges, pocket punches and safe saws so that a large group of kids can be creating the most fantastic objects and vehicles all at the same time.

Some of the best-selling Makedo sets are at pocket money prices. The Critters construction series includes subjects such as a penguin, rabbit, chicken, cow or monkey. They supply the basic parts, and the customer supplies the throw-away materials. This is fun in its best form, using materials that are easily and inexpensively available to anyone.
RECOMMENDED RETAILERS

Amazon
The world's most famous online retailer sells an unparalleled selection of toys.
Buy Makedo toys now >>