Maya Organic Toys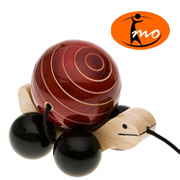 Maya Organic is a fascinating initiative that also happens to create some extremely beautiful wooden toys. Set up in 1989, Maya Organic is a development organisation that was founded to eliminate child labour and poverty. By providing a structure within which poor, but skilled artisans from the Bangalore area can produce goods that are then sold to the wider market, the organisation is providing sustainable lifestyles for workers that would have little chance of achieving this without support.
The "lacware toys" section of Maya Organic is based in Channapatna near Bangalore, where workers produce colorful and attractive toys that are manufactured from sustainable rubberwood. Maya Organic toys are coloured using natural dyes including Tumeric which provides a deep yellow colour - and extracts from the Ratanjyoti tree for dark brown hues. Tuttu Turtle is one of the most popular Maya Organic toys - although their train engine and wooden spinning tops are also popular items.
Maya Organic toys are distrubuted in the UK by Leela - a gift company that is based in the lovely Devon towns of Morchard Bishop and Okehampton.
RECOMMENDED RETAILERS

Amazon
The world's most famous online retailer sells an unparalleled selection of toys.
Buy Maya Organic toys now >>